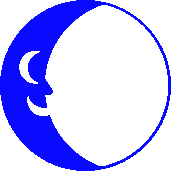 Setting Up MS Exchange for E-mail
---

The first step in configuring Exchange is to get into its "Properties" to edit the settings. Our control panel in Windoze95 looks like this and the "Mail" icon is a little globe with a mail letter sticking out of it. Your version of Windows95 may have a different icon to control the Microsoft Exchange settings, you may need to consult your Windows95 manual or the computer dealer from which you purchased your machine.

When you have located the appropriate Mail icon either click on it to open it up or use the right mouse button to access the "Properties" field and open the Properties screen.



---


Your Exchange Settings Properties should look something like this. Click on "Internet Mail" and then click on "Properties" here if you are ready to create your E-Mail connection to the Blue Moon.
---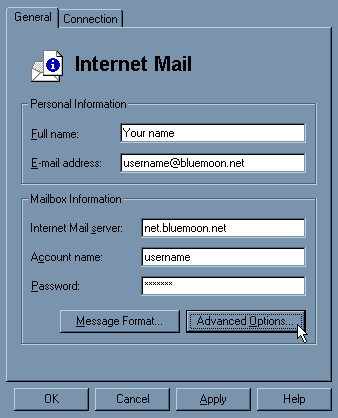 Replace "username" with your login name (screen name) on the Blue Moon and enter your password matching your entries with those on the Blue Moon's login authentication server exaclt case sensitive. If your login name is "joeB" then enter it with "joe" lower case and the "B" uppercase.
Click the "Advanced Options" button next.
---


Enter net.bluemoon.net as the outbound mail server. Click "OK" and then click on the "Connection" folder tab to open that window.
---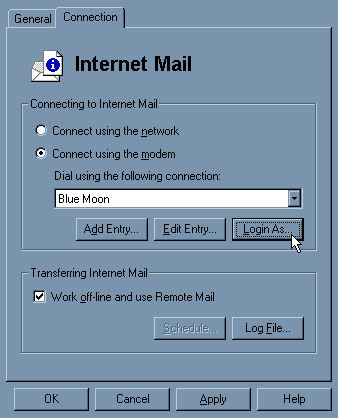 Make sure the "Connect using the modem" gadget is clicked on. The "Dial using the following connection" gadget should have the Blue Moon's connection description in its string gadget.
---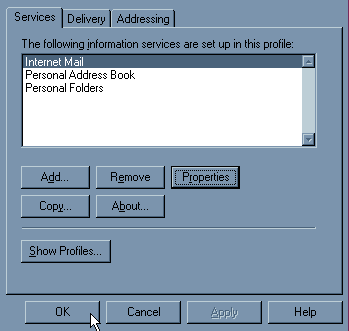 Your E-Mail entry should now be complete, any other available settings are either unneccessary or personal preference settings.
Click "OK" to complete your mail settings.
---
Click OK to go to the Main Help page or cancel to go to the Dialup Networking help Page.