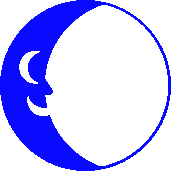 Setting Up Mozilla for E-mail
---

Before you start, you will need to know your network username and Incoming mail
server. Your username is everything before the @ sign in your e-mail address.

Open Mozilla and select Window and then select Mail & Newsgroups.

The Local Folders window will open, click on Create a new account.

The Account Wizard window will open, select Email account and then click Next

In the Your Name space, type the name you would want to appear as your "public name"

In teh Email Address space type your Blue Moon username.

For example your name is John Doe and your Blue Moon user name is jdoe@bluemoon.net

You would enter J. Doe, John Doe, John D. or anything else you wish in the Your name
field.  You would enter jdoe@bluemoon.net in the Email address part.  When you send mail
the recipient will see John Doe (jdoe@bluemoon.net).

Then click Next

Choose POP and in the Incoming Server you will type bluemoon.net

Then Click Next

Incoming and Outgoing User Name should match, click Next.

Account name: Enter Blue Moon or leave it at the default, then click Next.

Congratulations! Review the information displayed but uncheck the Download 
messages now box, then click Finish.

Click on View settins for this account under the Accounts heading.

Click on the Composition & Addressing entry on the right side of the screen that
comes up, make sure that Compose messages in HTML format is NOT chosen, then click OK 

This is all that you need to do to configure Mozilla for e-mail. 

You may now check your mail by selecting the "Get Msgs" icon in the top left 
portion of the screen (the first icon from the left). To compose a new message, 
you can click on the "Compose" icon (the second icon from the left). 

Hit the back button on your browser to return to the previous screen.






Internet Client Archives

Connect to the Blue Moon's FTP site for Mac Internet Files

If you visit the FTP site through a web browser you can click on the "00index.txt" file to display the filename descripions on-screen.
---
Number of people that have visited this Blue Moon Help Page:
---

This Help Page was Last Updated Wednesday, 28-Dec-2005 12:12:25 EST
Send Email to Info
Be sure to replace " AT " with @ in your mailer
&copy 2004 - 2006 Blue Moon Internet Corp.
Unauthorized Use Prohibited