Connecting Windows 7 and Vista to Blue Moon
Windows 7 and Vista have an Internet Connection Wizard, that asks you to fill in the details of how you will use Blue Moon to connect to the Internet.

Here's what you, need to set up your dialup Internet connection:

Your username, password, and access phone number. Your computer will need a dialup modem and most new PCs include one.

Connect a standard phone cable between the modem jack (the computer's jack may say Line, not Phone or may have both, in which case we want "Line.") and the phone jack in your wall.

If you don't know whether or not your PC already has a dialup modem, look for a telephone jack on the back of your computer, near where all the cables connect to it. Some computers come with an Ethernet jack, which looks like a fat phone jack, that's not the one we're interested in. The phone cable plug should take up all the space in the modem jack, if not then it's in the wrong one. If you don't have a dialup modem, you can buy one that plugs into your computer's expansion slots or a USB port, giving you a jack to plug into your phone line. They are very affordable, usually between $10 and $20.

The Internet Connection Wizard

The first time you set up your Blue Moon Connection or whenever your Internet connection gives you login problems, run through the following steps. The Internet Connection Wizard walks you through each step or your current settings, letting you make changes. Summon the Wizard by following these steps:


1. Click the Start button, choose Control Panel and in the Network and Internet section choose Make New Connection or Connect to the Internet, whichever one is available and starts the Internet Connection Wizard. You will get a Network Connection Type window asking which way you want to connect. We want the "Dial-up" method. Click this one and select Next.

2. Enter your Blue Moon account information, phone number, username, password and a few more settings.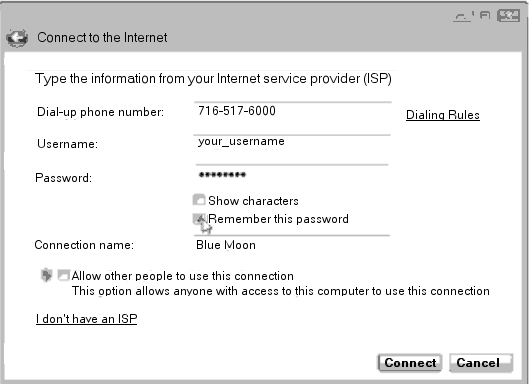 Your "Connect to the Internet" Wizard window should look something like this one.
Dial-Up Phone Number: Enter 716-517-6000

User Name: Enter your username here. It's the first part of your e-mail address, everything up to the @ symbol. It is CASE sensitive so make sure the Caps Lock key isn't on!

Password: Type your password here. To make sure that you're entering your password correctly, select the Show Characters check box. Then deselect the check box when you've entered the password without typos. Your password is also CASE sensitive.
Be sure to select the Remember This Password check box. That keeps you from reentering your name and password each time you want to dial the Internet. (Don't select that check box if you don't want your roommate or others to be able to dial your connection.)

Connection Name: Windows 7 names your connection Dial-Up Connection. Change it to "Blue Moon" without the quote marks.

Allow Other People to Use This Connection: Check this option to let people with other user accounts on your PC log on with this connection.

DON'T click the "I Don't Have an ISP" link, you do have one, Blue Moon!

The "Dialing Rules" link, next to the phone number, allows you to add extra sequences to the dialing, such as codes for an outside line, codes for a long distance carrier or *70 to disable Call Waiting. You probably don't need to do anything with this for now.



3. Click the Connect button. Your PC connects to the internet. To test your connection, load Internet Explorer from the Start menu, if it's not already loaded, and see if it lets you visit Web sites.


In the future, connect to the Internet by simply loading Internet Explorer. Your PC automatically dials the Internet using the Blue Moon connection you've created here. If you have problems or need more help, you can always give us a call at 716-876-6398


Back to The Blue Moon Help Site